RACE FOR GLORY É O PRIMEIRO TRAILER DE GAMEPLAY DE GRID®
Viva a Intensa Corrida Como Nunca com Novos Carros, Novas Configurações e Corridas Inigualáveis e Imprevisíveis
Larkspur, CA – 10 de julho de2019 – Fagulhas voam, carros capotam e rivalidades são formadas no primeiro trailer de gameplay de GRID® lançado pela Codemasters®. Quando as luzes verdes acendem, os carros se preparam para o tão aguardado retorno da amada franquia de jogos de corrida para PlayStation®4 e Xbox One, incluindo o Xbox One X, em 11 de outubro de 2019.
Os jogadores que fizerem a pré-compra de GRID ou GRID: Ultimate Edition irão ganhar a Aston Martin Vantage GT4 como conteúdo de bônus!
O trailer Race for Glory pode ser visto aqui:
A ação se desenvolve à medida que o bando de perseguidores pressiona os líderes para exibir alguns novos locais de corrida. Do calor das ruas de Havana ao circuito de Brands Hatch, o trailer Race for Glory mostra a emocionante, imprevisível e dramática experiência de corrida que os jogadores terão ao assumir o volante em outubro. Os visuais impressionantes de São Francisco e do Circuito de Zhejiang inserem o jogador no centro da ação e dão uma verdadeira sensação de velocidade, que lutam por qualquer brecha mínima de oportunidade para assumir a liderança, seja por meios convencionais ou esmagando os rivais em uma parede.
A corrida culmina com o Pontiac Firebird Modified e com o Chevrolet Camaro SSX Concept frente a frente nas curvas finais e na longa reta de São Francisco. Um erro poderia ser a diferença entre o doce sabor da vitória ou o amargo arrependimento. Com a trilha sonora como pano de fundo da antológica "The Light", de Sophie and the Giants, o trailer demonstra os riscos e as recompensas de levar alguns dos mais emblemáticos carros de corrida aos seus limites absolutos.
GRID é uma experiência de corrida como nenhuma outra. Inspirando-se na franquia original, GRID é uma nova abordagem do gênero com novos conteúdos, novas experiências e histórias esperando para serem escritas por você, jogador. GRID é sobre corridas imprevisíveis, onde tudo pode acontecer quando as luzes ficam verdes. É um novo capítulo da franquia GRID; um jogo que não só restaura as expectativas, mas as excede.
"A resposta ao anúncio do GRID tem sido incrível e há um entusiasmo genuíno em revelar muito mais do jogo," disse Chris Smith, Diretor de Jogo em GRID na Codemasters. "Nós nos propusemos a criar uma experiência de corrida emocionante que é como nenhuma outra e o novo trailer dá aos nossos fãs um vislumbre do que esperar. Os jogadores encontrarão corridas desafiadoras e combativas de todos os pilotos da IA e isso cria um mundo vivo e respirável onde tudo é possível e as posições finais devem ser conquistadas. Quer esteja competindo no meio do grupo ou disputando roda a roda para a vitória, não há vitórias fáceis e nossos jogadores vão aproveitar e se maravilhar com o nosso GRID mais competitivo até hoje.".
Para as últimas novidades de GRID visite nosso website e nossas redes sociais no Instagram, Twitter e Facebook.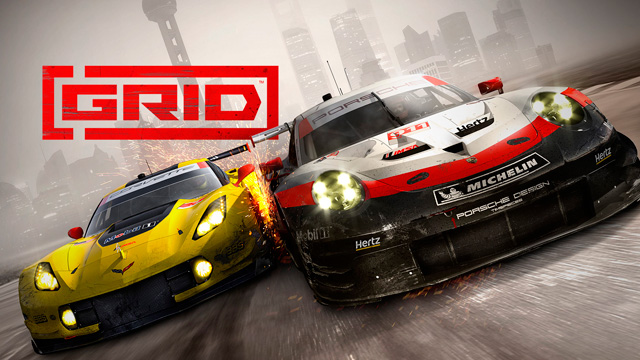 ABOUT CODEMASTERS:
Codemasters (AIM:CDM) is an award winning British video game developer and publisher with over 30 years of heritage. The company specialises in high quality racing games including DiRT, GRID, ONRUSH and the BAFTA award-winning official F1® series of videogames.
For more information on Codemasters' product portfolio, please visit www.codemasters.com. Join in the conversation with @codemasters on Twitter or Like us on Facebook atwww.facebook.com/codemasters.
© 2019 The Codemasters Software Company Limited ("Codemasters"). All rights reserved. "Codemasters"®, "EGO"®, the Codemasters logo and "GRID"® are registered trademarks owned by Codemasters. "RaceNet"™ is a trademark of Codemasters. All rights reserved. All other copyrights or trademarks are the property of their respective owners and are being used under license. Developed by Codemasters.
ABOUT DEEP SILVER
Deep Silver develops and distributes interactive games for all platforms. The Deep Silver label means to captivate all gamers who have a passion for thrilling gameplay in exciting game worlds. Deep Silver works with its partners to achieve a maximum of success while maintaining the highest possible quality, always focusing on what the customer desires.
Deep Silver has published more than 200 games since 2003, including its own brands like the open world extravaganza Saints Row, the zombie action franchise Dead Island, and the grim post-apocalyptic future of the Metro series. Upcoming highlights from Deep Silver include Dead Island 2. Deep Silver also owns the development studios Deep Silver Dambuster Studios in Nottingham, UK; Deep Silver Fishlabs in Hamburg, Germany, and Deep Silver Volition based in Champaign, IL, USA. For more information please visit: www.deepsilver.com
Koch Media is a leading producer and distributor of digital entertainment products (software, games and films). The company's own publishing activities, marketing and distribution extend throughout Europe and the USA. The Koch Media group has more than 20 years of experience in the digital media business and has risen to become the number one distributor in Europe. It has also formed strategic alliances with numerous games and software publishers: Bethesda, Capcom, Kaspersky Labs, NC SOFT, Sega, Square Enix and Tecmo-Koei, etc. in various European countries. With Headquarter in Höfen, Austria Koch Media owns branches in Germany, England, France, Austria, Switzerland, Italy, Spain, the Nordic regions, Benelux, Australia, Czech Republic and the United States.